Welcome to Labbed.net
Hi! I'm Labbed, and this is where I put some of my creations. Check the About page for a more detailed explanation.

Latest update:
It's yet another new year again!
Time sure flies... Anyway, Labhits 2013 can now be found on Last.fm, Jamendo and Bandcamp.

Now about my shmup, that I have been talking about in previous updates... It's still not finished! But to keep you excited (?) I have decided to show you some screen shots, so you at least know what it looks like: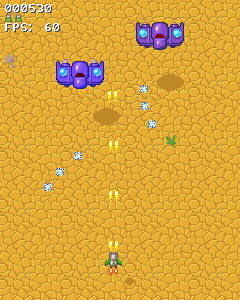 There! I hope you weren't expecting something more fancy!
I'm pretty sure I'll be able to release this game in 2014.

I will probably be able to release a new version of LabChirp this year too, so stay tuned for that!

Have a wonderful day today!
12 comments
:
Hello Artaches!
I installed your game and tried it. It's lovely!
Really cute graphics, the controls are nice and the gameplay is interesting and fun. The music fits pretty well too.

I'm gonna keep it on my phone for sure! And I hope you make more games!

Thank you!
Oh, hello Sam! I'm glad you like it!
What did you use, or were planning to use labbed.com for, anyway? I don't think I ever saw anything on there.
Well, thanks! Nice of you to drop by. I wish you luck in any future projects.
Oh hi again Artaches!
I tried them both. They were hard! My hiscore so far for Swing Angel is 5... And for 2048 Tile Flap it's 11.
Thanks for using my music again! And feel free to keep doing so. I really appreciate it!
Format with [b]bold[/b], [i]italic[/i] and/or [u]

underline

[/u]