LabChirp
Sound effect generator
A program for creating sound effects for games, music, videos - whatever you want!
A manual and some example sounds are included to get you started.

Works on Windows (requires .NET Framework 2.0) and other platforms through Mono.
Features
Multiple channels: Up to eight individual channels. All or any element of a channel can be copied to another.
Modulation: For vibrato and tremolo (pulsating variation in pitch and volume).
Envelopes: To shape everything the way you want it.
Waveforms: Make your own custom waveforms, or use any of the standard ones (sine, triangle, sawtooth, square, noise).
Effects: Add cool post-effects to your sound.
Customizable randomizer: For the lazy sound designer.
Customizable mutator: To randomize your sound slightly.
Batch save: If you are in a hurry and need a lot of sounds fast.
Here is a demo in mp3 format showing all of the example sounds and some randomly generated sounds using different presets.

Download
Latest release
Older versions
Screenshots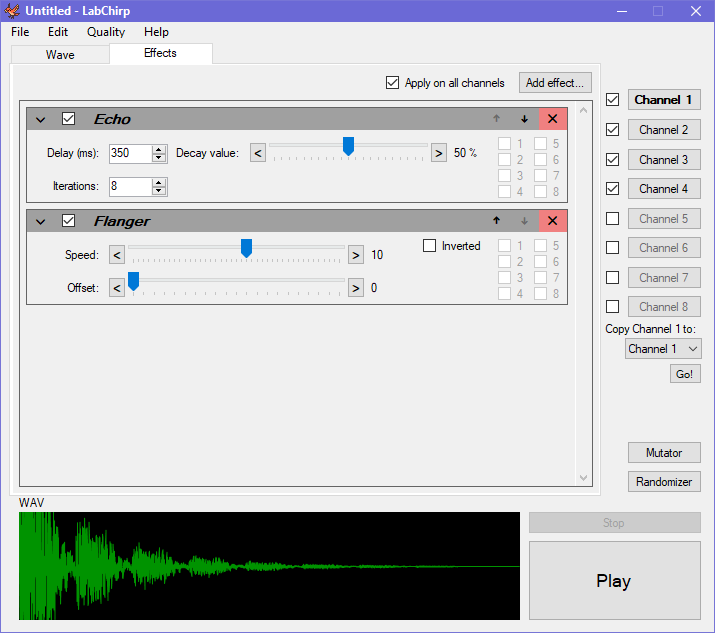 Changelog
Version 1.50
Effects!
Apply cool sound filters/effects such as Reverb and Flanger to your sound!
Trim silence!
Automatically trim silence at the beginning and/or end of your sound.
Various bug-fixes and smaller layout/convenience adjustments:


Clickable stop button.
Playback indicator.
Envelope preview in the Randomizer.
Splash screen.
Wave frequency accuracy correction (was 0.05 % off before).
Loud sounds could overflow and "loop" instead of being clipped.
Small Mono compatibility fixes.
Probably some other bug fixes that I forgot about.
Version 1.25
More quality options!
You can now apply dither and oversampling.
A more intuitive way of editing envelopes!
Simply click anywhere to add a point, and move a point by dragging it.
Curves for the envelopes!
To create some really smooth envelopes without having to add many points.
Mutator!
To randomly tweak a sound.
Back/forward buttons for the randomizer!
If you accidentally skipped a cool random sound you can restore it.
Batch save random sounds!
Select a preset in the randomizer and save a whole bunch of sounds at once!
Faster sound generation!
Taking advantage of multiple cores.
Copy/paste for envelopes!
Copy one envelope and paste it into another!
Added shortcuts to switch channels.
Ctrl+Tab/Ctrl+Shift+Tab or Ctrl+1-8.
More customization.
You can choose your own colors for the envelopes, among other things!
Save/export split!
Before, both a WAV and LCH file was created when you saved. Now you can choose to save only one of these, if you want.
General UI fixes.
Such as grayed out buttons for muted channels, double buffered panels and DPI compatibility.
Version 1.00
Higher quality sound!
You can now choose between 22050/44100 Hz and 8-bit/16-bit.
More envelopes!
Modulation waves also have envelopes now.
New waveform!
Noise2! Which is like Noise with a linear interpolation. Also, modulations have the Custom Wave too now.
Randomizer!
To generate random sounds!
General interface redesigns.
Some things has been moved to a more logical position and some other stuff has been added or removed.
More wave accuracy.
There were some problems with offset and Noise but it should be fixed now. Also, most values now have one decimal.
Easier value edit!
You can now click on the number next to a slider to edit its value.
Undo!
You can now undo and redo.
Other not very interesting stuff.
Like settings, bugfixes, an about box, menubar and more!
Version 0.85